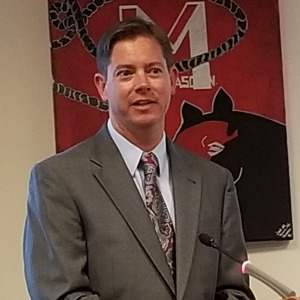 TIM KASIK, PRINCIPAL
Following an extensive search, and recommendation of a search panel, the Falls Church City Public Schools School Board in June 2018 appointed Mr. Timothy Kasik as the new principal of Mount Daniel Elementary School. Last year Mr. Kasik finished his eighth year as principal of Crestwood Elementary School in Springfield, Virginia and also happens to be an FCCPS parent.
"Mount Daniel Elementary School is a dynamic and engaging community focused on providing a strong educational foundation through active learning for all students," Kasik said. "I am beyond excited to be able to give back to my community and very much look forward to joining such a wonderful, committed group of educators."
Mr. Kasik is an experienced educator with over 20 years in the field all of it in Fairfax County schools. He began his career as an elementary teacher at Braddock Elementary in 1998. He became assistant principal of Washington Mill Elementary in 2004, before being appointed principal at Crestwood in 2010 where he was twice named Top-Rated Principal by the Fairfax County Federation of Teachers. Mr. Kasik earned a Bachelor of Science degree in Elementary Education from Ohio University and a Master's Degree in Educational Leadership from George Mason University.
Address: 2328 North Oak Street, Falls Church, VA 22046 USA
Email: tkasik@fccps.org
Phone: 703-248-5640
Fax: 703-248-5642