EDIT MAIN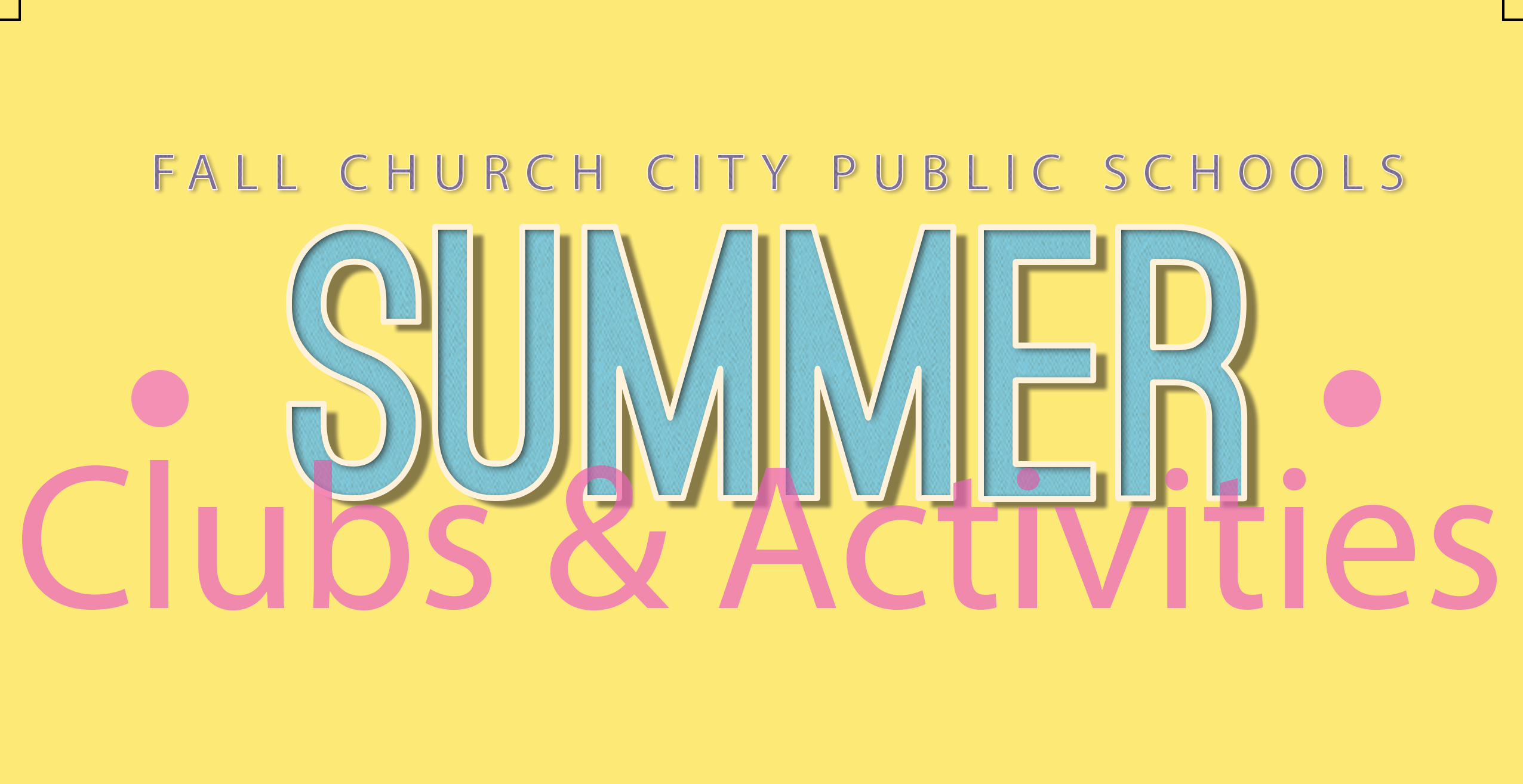 To support our students over the summer months and to promote connectedness during this time, FCCPS schools are offering the following summer clubs/activities, and social groups! All student clubs, activities, and social groups will utilize the Schoology platform. Please remember these are optional activities - students are not required to participate.
If you have questions or need more information, please reach out to the specific club, activity, or group sponsor. Thank you to our amazing Teachers and Student Services Staff for offering these resources to our students this summer!
We hope everyone has a wonderful summer. Please stay safe and healthy!
---
Select Your School
Jessie Thackrey Preschool
---
Grade/Group

Staff

Dates

Times

Kindergarten Social Skills/Friendship Afternoon Group

Mr. Jed Jackson, School Counselor
jacksonj@fccps.org

July 1st
July 8th
July 22nd
July 29th

3:00-3:30pm

First Grade Social Skills/ "Lunch Bunch" Group

Mrs. Susan Sinclair, Social Worker
sinclairs@fccps.org

June 22nd
June 29th
July 6th
July 13th
July 20th

11:00 -11:30am

Second Grade Social Skills/ "Lunch Bunch" Group

Mrs. Carol Seaver, School Counselor
seaverc@fccps.org

June 24th
July 1st
July 8th
July 15th
July 22nd

11:30am-12:00pm
Instructions for Parents: Your child can drop in any week and is not required to participate each week if you are unavailable
Log into Schoology through the internet, not the app.
Go to "courses". Find the course for the staff member that corresponds to the grade that your child has recently completed. Click on the course, next on the left-hand side of the screen find "Conference" and click it. Then find the correct day and time for the social group and then click "join meeting".
You may be asked to join a breakout room so that you can see all of the other students participating. Please click "Join Session" (When you do this the original group window will remain open and a second window for the room will open, you can go back and forth between the windows.)
Please reach out to the group sponsor for your student's grade level with questions.
---
Thomas Jefferson Elementary

All TJ Summer Clubs & Activities will be held in Schoology. Please register for the session using the Google Form below. You will be contacted with details and further information. Please contact the club sponsor/host for more information after completing the online registration form below. Students do not have to attend all dates and may participate as their schedule allows.

TJ Summer 2020 Online Club Registration--English

Club Name

Host

Description

Day

Time

Grade

Monday Motivations Book Club

Megan Flajser

Join Mrs. Flajser for a picture book read aloud followed by a discussion based on the book's themes. Some of the ideas we will talk about include growth mindset, mindfulness, self-confidence, and perspectives. Then, we will do a group activity based on the book.

Mondays--
June 15, 22, 29
July 6, 13, 20, 27
Aug 3

9:00 - 9:45

3rd

Virtual Reader's Theater

Miriam Schimmoller

How can we do Reader's Theater using a computer? Well, we will read some plays, practice our lines, and then read them during a Schoology Breakout Session. After that, we will work together to create an iMovie of our Virtual Performance.

Mondays--
June 22, 29
July 6

10:00 - 10:45

3rd

Game Day!

MK Hughes

Calling all game lovers! Join us online to play Pictionary, Heads Up, Kahoot trivia, and other online versions of your favorite games.

Tuesdays--
June 16, 23
July 7, 14, 21, 28

10:00 - 11:00

5th

Book Share & Illustrations

Laurie Prather

Love to talk about your favorite books or learn about others you'd like to read? Do you enjoy illustrating the images your mind creates? Join Mrs. Prather as we share your favorite books and illustrations over afternoon snack/lunch

Tuesdays--
June 16, 23, 30
July 7, 14, 21

11:00 - 11:45

4th

Crafty Kids Club

Laurie Prather

Join Mrs. Prather for an opportunity to share your craft passion and/or learn something new...can't wait to craft with you!

Tuesdays--
June 16, 23, 30
July 7, 14, 21

12:00 - 12:45

5th

Word Wednesday

Megan Flajser

Each week we will dive into the English language through games, books, and word talks!

Wednesdays--
June 17, 24
July 1, 8, 15, 22, 29
Aug 5

9:00 - 9:30

3rd

Cute Animals Club

Laura Coates

We will look at pictures of cute animals, pick our favorites, read stories, draw on the whiteboard, and talk.

Wednesdays--
June 17,24
July 1, 8, 15, 22, 29
Aug 5

10:00 - 11:00

3rd-5th

Social Lunch Bunch

Larkin Epstein

Bring a lunch or snack and hang out with friends and Miss Epstein. We will share with one another and play games.

Wednesdays-
June 17, 24
July 8, 15, 22, 29
Aug 5

11:30 - 12:00

3rd-5th

Puzzles, Riddles, & Jokes, Oh My!

Tosin Adetoro

Do you love brain teasers? How about challenging a friend with a fun riddle or joke? Well, this is the club for you. Join Ms. Adetoro with other TJ tigers to share your best riddles and jokes during your afternoon snack/lunch.

Wednesdays-
June 17
July 1, 15, 22, 29

12:30 - 1:00

4th-5th

Puzzles, Riddles, & Jokes, Oh My!

Tosin Adetoro

Do you love brain teasers? How about challenging a friend with a fun riddle or joke? Well, this is the club for you. Join Ms. Adetoro with other TJ tigers to share your best riddles and jokes during your afternoon snack/lunch.

Thursdays-
June 18
July 2, 16, 23, 30

12:30 - 1:00

3rd Only

Exercise & Healthy Living Club

Sarah Mihm

We will connect virtually to do yoga, stretch, complete various exercises, and discuss healthy living. This component will change weekly and cover: healthy eating, mindfulness, dealing with stress, positive self talk, etc. I'm so excited to connect virtually!

Thursdays-
June 18, 25
July 2, 9, 16, 23, 30
Aug 6

9:15 - 10:00

3rd-5th

TJ's Terrific Musicians

Kayondra Reid

Do you play an instrument? Do you sing? Are you looking for an opportunity to perform music this summer to a virtual audience? If you play a band or string instrument, sing, or an instrument outside of school join Ms. Reid once a week to share your musical accomplishments!

Thursdays-
July 2, 9, 16, 23, 30

11:00 - 11:45

3rd-5th
---
Henderson Middle School Summer Clubs

The clubs below will run June 15th through July 10th (All summer clubs are located in Schoology: Summer Virtual Clubs). All clubs are open to Henderson MS students grade 6-8 from the 2019-2020 school year. Please contact the Sponsor and look for information in Schoology regarding specifics.

Club

Sponsor

Day/Time

Outdoor Club-Students can learn to either plant or pick flowers/veggies/herbs or talk about hikes/walks. Students can share either with pictures or through video.

Ms. Trebels

Mondays 9:00-9:30 am

Monday Movie Chat-Each week, students can agree on an age appropriate movie that's free on TV to critique and chat about!

Ms. Deal

Mondays 1:00-1:30 pm

BUILD IT-Use Legos or other materials to build something different each week (spaceship, hotel, etc). Students will be given a new task each week. The following week they will share their build with the group.

Ms. Partridge

Tuesdays 9:00-9:30 am

Book Chat-Book discussions about current books being read and fun book activities!

Ms. Fogle

Tuesdays 10:00-10:30 am

Conversations & Coloring-We will spend time talking and coloring together. We love coloring!

Ms. Bournigal / Ms. Roth

Wednesdays 9:00-9:30 am

Knitting & Crocheting-The purpose of this club is to share knitting, crocheting, or other fiber art and to have dedicated time to working on your art.

Ms. Liebner

Wednesdays 12:00-12:30 pm

Training for the Run for the Schools 5k--A continuation of the current club to get students active and ready to run the Run for the Schools 5k!

Mr. Buck

Thursdays 9:00-9:30 am

ASL Club-Students have an opportunity to practice their ASL skills interacting with one another and staff. Students will watch Youtube videos, hold discussions, and grow through different sign language themes each week.

Ms. Dzugas-Smith

Thursdays 10:00-10:30 am

Virtual Concert Band Camp Ensemble-Virtual video conference/rehearsals to guide students through band music literature, and facilitate large group/small group/individual virtual band video performances.

Mr. Mills

Thursdays 1:00-1:30 pm

Yoga-A yoga practice for relaxation and reflection.

Ms. Filmyer

Fridays 9:00-9:30 am

Sports Talk-It's an opportunity for students and teachers to simply have fun talking about sports (look for guest appearances throughout the summer).

Mr. Coffren

Fridays 12:00-12:30 pm

Theater Club - Rehearsals and creation of an original play to be performed online.

Ms. Gross

Fridays 1:00-1:30 pm
The clubs below will run July 13th through August 7th (All summer clubs are located in Schoology: Summer Virtual Clubs). All clubs are open to Henderson MS students grade 6-8 from the 2019-2020 school year. Please contact the Sponsor and look for information in Schoology regarding specifics.

Club

Sponsor

Day/Time

GSA Club-GSA-Gay/Straight Student Alliance to create a space for members and allies of the LGBTQ+ community.

Ms. Gross

Mondays 1:00-1:30 pm

Virtual Jazz Band Camp Ensemble-Virtual video conference/rehearsals to guide students through jazz band music literature, and facilitate large group/small group/individual virtual band video performances.

Mr. Mills

Mondays 2:00-2:30 pm

Cooking Club** (**Cooking Club and Sewing Club will only be for 3 weeks (July 13th to July 31st)

Ms. Maco

Tuesdays 9:00-9:30 am

Sewing Club** (**Cooking Club and Sewing Club will only be for 3 weeks (July 13th to July 31st)

Ms. Maco

Tuesdays 10:00-10:30 am

Mindset & Self Care for Teens-Discussions about science-based self-care and mindset things that teens can do to destress and brainstorming sessions of how to use them or create/share new self-care ideas!

Ms. Deal

Wednesdays 1:00-1:30 pm

The Secret Life of Pets-Student's and/or families bring their family pet or pets to the virtual platform to introduce to everyone and share with one another. Students are encouraged to share their pets each week or updates about their pets or simply enjoy watching other students or staff share their pets with others to learn about different animals.

Mr. Sowers

Thursdays 9:00-9:30 am

ASL Club-Students have an opportunity to practice their ASL skills interacting with one another and staff. Students will watch YouTube videos, hold discussions, and grow through different sign language themes each week.

Ms. Dzugas-Smith

Thursdays 10:00-10:30 am

Sports Talk-It's an opportunity for students and teachers to simply have fun talking about sports (look for guest appearances throughout the summer).

Mr. Coffren

Fridays 12:00-12:30 pm
George Mason High School

Group

Sponsor

Dates

Times

Student Mindfulness Group-Join the group for relaxation and mindfulness strategies to support a stress-free summer!

Sharon Hoffman, School Psychologist

Tuesdays, June 16th-28th

11:00am-11:45am