EDIT MAIN
Brailsford & Dunlavey Named Owner's Rep.
---
April 23, 2018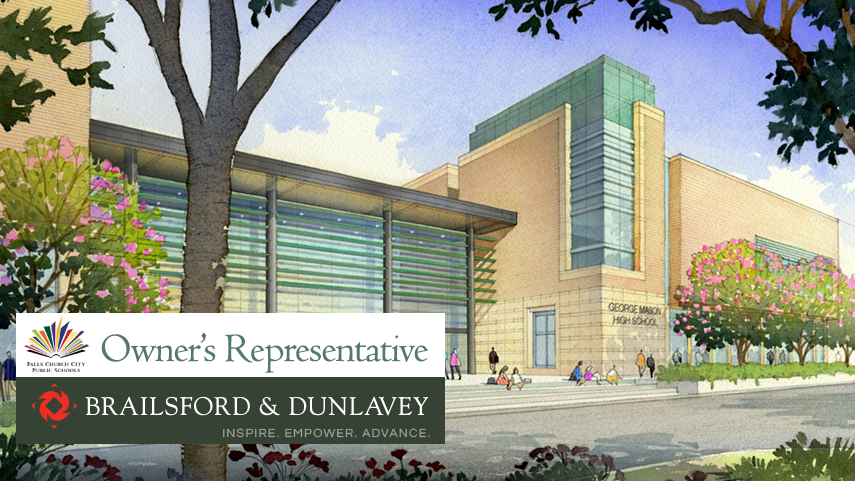 The Falls Church School Board has selected Brailsford & Dunlavey (B&D) to serve as Owner's Representative for the George Mason High School construction project.
An Owner's Representative is a representative for the owner of a project which, in this case, is the school division. When dealing with general contractors and the technical aspects of a complex construction project, a team of skilled construction management professionals is needed to protect the interest of the project's owners. B&D will represent Falls Church City Public Schools beginning with the review of the returned Detailed Proposals from companies currently bidding on the new high school project. Those proposals are due on May 17.
Brailsford & Dunlavey has planned or managed the implementation of more than $35 billion in completed construction projects. It brings to the George Mason project a strong team that knows the local market. B&D managed the new geothermal powered Dunbar High School and the LEED Gold Certified HD Woodson High School construction projects. They specialize in school program planning, RFP development, project management, and community engagement, and has experience in the delivery of PPEA projects and other forms of public-private partnerships.
Brailsford & Dunlavey, a certified minority-owned company, won a competitive process that included nine interested firms. The Fall Church School Board authorized the Superintendent to sign the contract with B&D at its April 23rd meeting.
Arcadis, who has been an active partner with Falls Church City Public Schools as Owner's Representative on numerous projects for more than a decade, continues in that capacity for the Mount Daniel Expansion project currently underway.