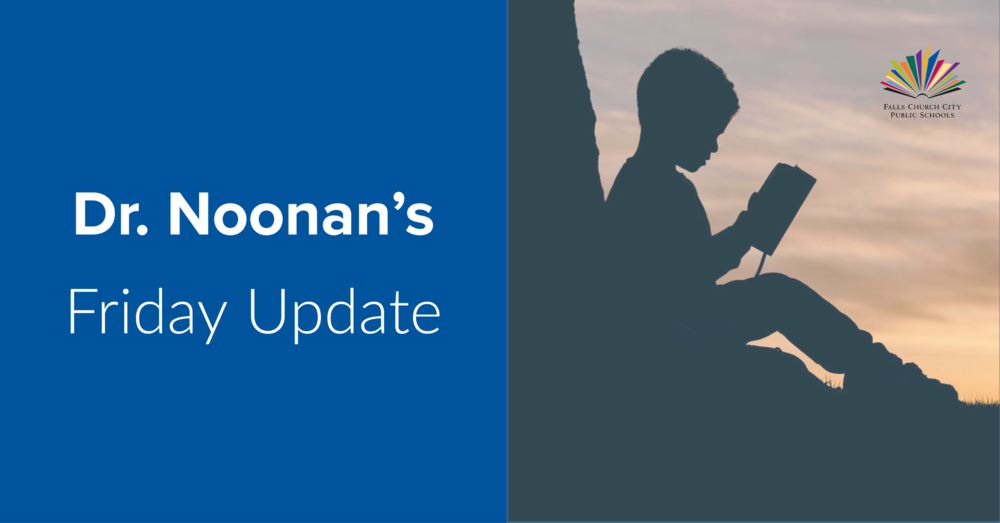 Dr Noonan's Friday Closure Update
FCCPS Communications
Friday, May 15, 2020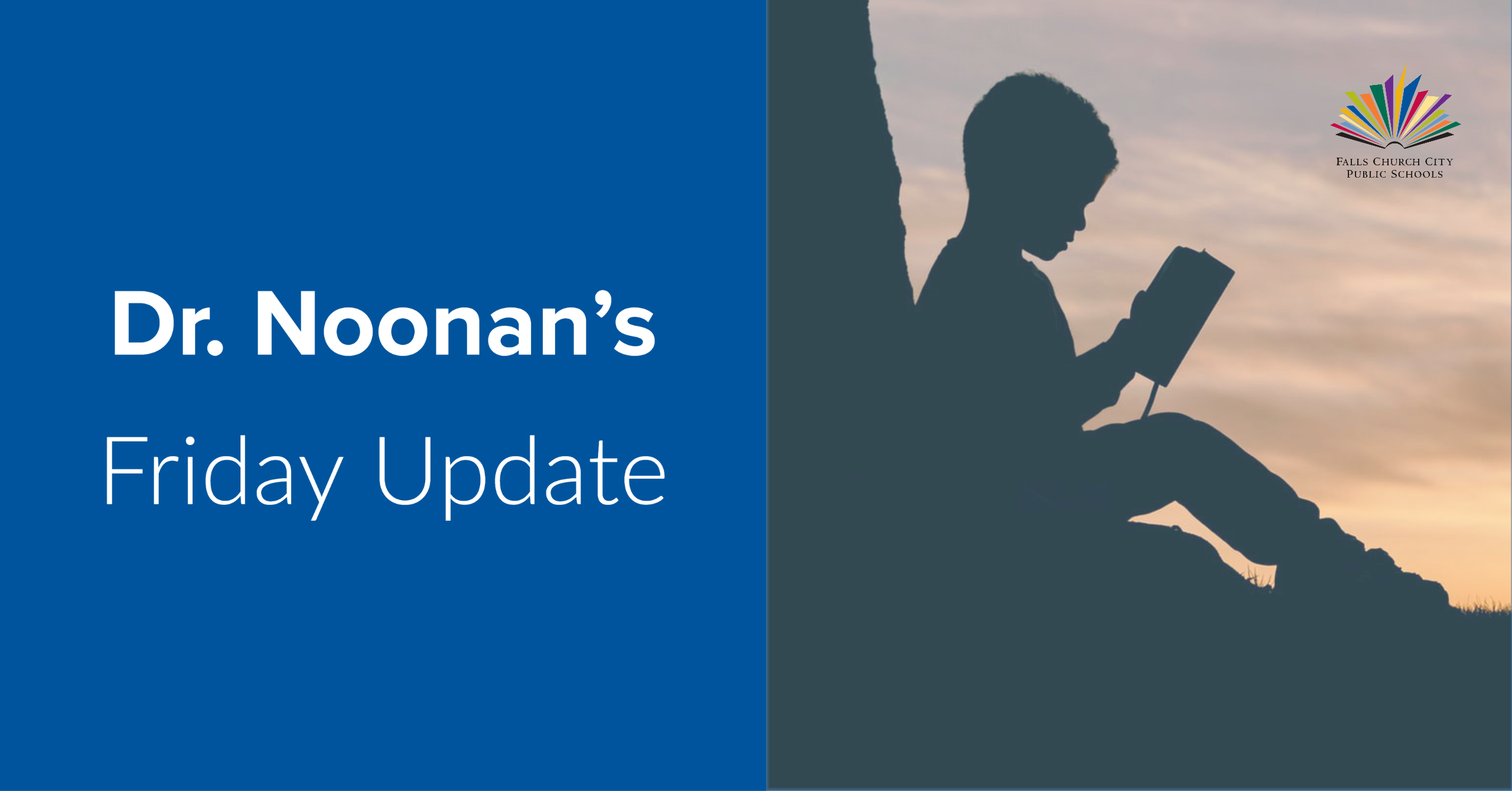 May 15, 2020
Versión en español a continuación
This is longer than usual so get a cool drink, settle in, and read…:)
Dear FCCPS Families and Staff,
It has been another interesting week in FCCPS. Thank you all for your continued support of our schools. I mentioned in my weekly Wednesday @peternoonan Twitter message that we, as a community, need to get comfortable with ambiguity. As a lifelong educator, one of the joys of working in a school system is the predictability of the year, the week, and to some extent, the day. As a parent of three in the schools, I also appreciate the predictability. We are in the territory now where there is little predictability and all we can do is begin to plan for a variety of scenarios. We continue to meet with our partners around Virginia to gather the best and most accurate information available and make decisions based on that.
As a consequence of being in an unpredictable situation, we must also build in flexibility. We are so proud of our teachers and staff who were able to "stand up" an online learning program that filled the gap during the crisis phase of the pandemic and has held through the first portion of the transitional phase. We have received overwhelmingly positive responses to what we have done and we are forever grateful for that. And now, in an effort to grow and be flexible, we must reflect on what has worked well, what can be improved, and how we move ahead if we return to online learning in any future scenario.
Therefore, we are engaging in further study and research and conversations about what instructional best practice in an online environment looks like. We are developing plans to support our teachers professionally so they can grow in their work online, and developing a set of core principles for online learning that we will share with our community in the coming months. To inform our work we will continue to engage with our teaching faculty and plan to do a very brief survey of students, parents, and staff that will provide us with information going forward. Be on the look out for this in the near future.
As I stated at the beginning of this crisis, not meeting face-to-face is not the ideal state. However, if we work hard to improve our quality of instruction consistently across every classroom and setting online, it is my hope that we can say to all of you…"while we prefer to meet in person, even online we can offer a excellent educational program." That idea will allow for the greatest flexibility going forward regardless of what scenario we engage in based on the science and safety of our students, staff, and family during the pandemic.
Updates
Face-To-Face Summer School
It is with great disappointment that we announce that FCCPS will not be holding face-to-face summer school for our students. After consulting with the Fairfax County Health Department (FCHD) team of experts, we have concluded that holding in-person summer school is not in the best interest of our students, our staff, or their families. The health risks continue to be too great based upon a number of factors. Those factors include rates of infection, resource availability, and timing of projected peaks of infection.
This decision is not made lightly as we know the hardships that this extended closure has created for families across our community. In the Fairfax Health District, and in the City of Falls Church, we continue to see an increase daily in the number of COVID-19 cases. This necessitates the continued need for intensive social mitigation strategies across our community to keep everyone safe. Data from the Fairfax County Health Department (FCHD) dashboard ( https://www.fairfaxcounty.gov/covid19/case-information) and the University of Virginia models (https://covid19.biocomplexity.virginia.edu/dashboards) show we have not and do not expect to reach our "peak in the curve" until many weeks from now, which unfortunately places us well into the summer. FCHD shared that the rates of infection are continuing to increase and are not expected to decrease until after the summer.
Further, FCHD guidance and data show that with the relaxation of social mitigation strategies, we will see increases in the incidence rates of the disease. As a community, we must continue taking action to limit disease transmission. Therefore, face-to-face instruction is just not going to be possible in order to protect our students, our staff members, and their families. The VDOE has also provided guidance that face-to-face instruction should not resume until after July 25th. We simply cannot risk increasing the spread of disease across our learning community that comes with holding face-to-face summer instruction. As a result, we will not have our traditional summer school programming, including our summer in-person traditional face-to-face Extended School (ESY) year program for students with disabilities. ESY services will be offered virtually for our students with disabilities. The George Mason High School Summer Academy will be held without the in-person component.
However, we will be offering a variety of support opportunities, instructional enrichment, and alternative learning approaches for students across the division during the summer. Below are some of the strategies that will support our students throughout the summer in place of traditional summer school instruction. We know this situation is not ideal. Our primary concern has been and will continue to be the health and well-being of our learning community.
School/Program:
Description/Details:
Contact Person:
Preschool Students

Monthly Activity Calendars for June/July/August with Summer Enrichment Activities will be shared with all parents.

Marie Baroody ( mbaroody@fccps.org)
Elementary School Student Resources
Jeremy Ferrara
jferrara@fccps.org
Amanda Davis

Middle School Resources

Rory Dippold
rdippold@fccps.org
Rob Carey

High School Students

Students will have the opportunity to select from a variety of Hybrid (Hy-C) courses for new credit, credit recovery, or continuation via the George Mason High School Summer Academy. Please visit https://gm.fccps.org/o/gmhs/page/2020-summer-academy for more information. (However, there will be no in-person learning component for this program.)

Matt Hills ( mhills@fccps.org)
David Serensits ( dserensits@fccps.org)
Services for Students with Disabilities

ESY Special Education and Related Services will be provided via individualized online sessions as determined by the student's Individualized Education Program (IEP) team.
The IXL adaptive, computer-based program for students with disabilities will continue to be available for both Reading and Math.
A "Special Education On-Call" Support Team will be available throughout the summer to help students and parents.

Rebecca Sharp ( rsharp@fccps.org)
Seamus O'Connor ( oconnors@fccps.org)
Patrick Garland ( garlandp@fccps.org)
ESOL Programming for English Learners

An online summer school session will be provided at each level to support English language development for current English learners.

Jennifer Santiago
( santiagoj@fccps.org)
Online Activities and Supports Provided to Summer Day Camp Families Until Day Care can open

Middle School Summer Day Camp will not be offered at all due to insufficient enrollment.
Elementary Summer Day Camp programs at Mt. Daniel and Thomas Jefferson will not be offered in June (Weeks 0, 1, and 2). We will wait for guidance from the health department and the state about programming later in the summer. We will provide families with as much notice as possible.
All field trips and swim trips have been canceled for the summer.
Day Care staff will provide daily activities for families through Schoology while Day Care is closed. This will be available to all registered families, including middle school families.
We are continuing to evaluate options for supporting students and staff safety once face to face camp resumes.

Katie Clinton
( kclinton@fccps.org)
Food Support
In response to the extended closure due to the COVID-19 public crisis, FCCPS is proud to provide ongoing meal support to our students and their families. Each week ANY family in need, not just those who participate in the Free and Reduced Meals Program, can order (7) Breakfasts and (7) lunches for each child in their family. The program began on April 3rd and will run through the entire summer.

The meals will be bagged and ready to pick up at their preferred location, either George Mason High School or Thomas Jefferson Elementary School. Families will need to order their meals by each Wednesday at 2:00 pm, and they can be picked up each Friday morning between 9 am and 12 noon, observing safe social/physical distancing.
Instructions for ordering, including a video, are available here.

Please remember! If COVID-19 closures have resulted in a change in your family's income, you could be eligible for assistance through the National School Lunch program.

FCCPS accepts applications for the Free Reduced Meals Program at all times. Please visit https://www.fccps.org/o/FCCPS/page/free-reduced-meals--14 to download the application for the FRM program.
Once the application is complete, please email it to foodservices@fccps.org. You will be notified regarding your eligibility for this program ASAP.

If you need support with completing the application, please reach out to your school's Social Worker for support. Remember, we are here to help you. Additionally, there are many other resources available from our city, county, and state partners. Those resources include:
Richard Kane
( rkane@fccps.org)
In addition, the City of Falls Church Recreation and Parks Department and Mary Riley Styles Public Library are offering a wide variety of online resources for families.
Equity Update
The Division Level Equity Team (DLT) met on Tuesday afternoon to take a deep look into the impact of COVID 19 on students and staff. This deep dive included sharing positive learning outcomes as well as areas where students are experiencing learning challenges. During our time of online distance learning many teachers are reporting that some students who have otherwise been shy, slow to participate, or less engaged in the classroom setting are now thriving. We've heard many of our students are flourishing in the online setting and are showing marked improvements in their speaking and listening skills. With that, we recognize that long stretches of online teaching and learning aren't ideal and we need to continue to monitor our students' progress, especially our students who are often the most negatively impacted.
Team members also discussed equity concerns and ideas that need to be kept at the forefront of our thinking as FCCPS leaders finalize the end of year plan and fall 20' opening of schools plan. The meeting agenda and notes are here and posted on the equity webpage.
As we continue to sharpen our equity lens, DLT members have agreed to continue to touch base biweekly to engage in equity discussions and share resources and professional articles to ensure that all division level decisions maintain an equity focus.
GMHS Time Capsule
I have been working with our Owner's Representatives, Brailsford & Dunleavy, to produce a 'Call to Action' for our new GMHS Time Capsule. We are asking everyone to suggest items to be included so, one day, future generations can enjoy looking back. No doubt there will be a face mask. So think about what you think would be great to include and send your idea to newgmhs@fccps.org .
Reminders
Jessie Thackrey, Mount Daniel, Thomas Jefferson
Teachers are gathering student items and placing them in a paper bag with the student's name on it. These items will remain at school and distributed when the student returns in the fall. Similarly, Day Care staff are gathering items from daycare lockers and placing them in bags for pick up when school reopens. School Health Aides are reviewing student medications. These will remain at school or moved to the student's new school if they are transitioning. If parents need the medication returned, please reach out to your school's administrators.
Technology and library books will be returned to the school in the fall. We will set a date in early August for technology to be returned to get it ready for the new year if we can begin the new school year in school buildings.
Mary Ellen Henderson, George Mason – Grades 9-11
Please mark the weekend of June 6th and 7th on your calendar as student drop off days. There will be a drop off schedule announced in the upcoming weeks to support social distancing. Tables will be set up outside, in the Kiss-and-Ride loop at Henderson, and the Route 7 loop at George Mason. The contactless process will allow families to drive up in cars and place items in orange moving bins and leave. Our staff will collect the bins, wipe off the items before bringing them into the building. Locker cleanout at Henderson will occur at a later date in the summer.
Items to be returned the weekend of June 6th and 7th include:
Textbooks
Library books
Band Instruments
Athletic Uniforms (please wash them before returning them)
Students who purchased a Henderson or Mason yearbook will have them distributed during this time as well.
All students (except seniors - see below) will retain their laptops through the summer. They will be updated remotely.
INCOMING FRESHMEN: We will plan a laptop exchange in early August, where you will exchange your Henderson laptop for a Mason laptop.
Outstanding fees will be invoiced and collected electronically.
As with primary schools, the School Health Aide will review student medications. These will remain at school or moved to the student's new school if transitioning. If parents need the medication returned, please reach out to your school's administrators.
George Mason Seniors
Seniors received their caps and gowns using a contactless, drive up process. They also received information on a Class of 2020 Graduation video being produced that will premiere on June 10th at 7 pm. So go ahead and make those family viewing party plans and get take-away from your favorite local restaurant in the City of Falls Church! See below for more details...
Saturday, June 11th, will be Senior Drop Off Day! All of the items mentioned above, including your MacBook and charger, will be returned in exchange for your diploma. Any outstanding fees will be invoiced and collected electronically.
Graduation Details
Since the beginning of April, Mr. Hills, Mrs. Reyes, and Mr. Bates have been leading graduation planning meetings with the Mason Student Advisory Council. We are excited to share that our graduates will participate in a professional graduation video production created with the expertise of Molly Hermann and her team at The Biscuit Factory - a local business. The video will be aired at 7:00 pm on June 10th in lieu of in-person graduation. Seniors will return to Mason High School on June 11th to pick up their diplomas, stoles, medallions, cords, etc. and turn in their laptops. We will continue to meet with the students to discuss and plan a face-to-face ceremony in the late summer or fall when it is safe to do so.
Our graduation production is a collective effort from the entire senior class, where individual student videos will be combined to create a seamless streaming production. The video will include student and staff speeches along with the action of students moving their tassels and throwing their caps. We would like to send a special thanks out to our senior class leaders who have remained dedicated to planning a graduation event for the entire Falls Church City Community to enjoy, where we can honor and recognize the incredible accomplishments of the George Mason High School Class of 2020. Please continue to show your appreciation for our graduates by placing congratulatory signs in your yards and windows!
Mental Health Supports
This has been a time of high anxiety and stress for us all. We need to take the same care with our mental health as we do with our physical health. Focusing on emotional needs is essential. It is ok to step back and take a break. We are in the midst of a traumatic event. Caring for yourself and your students is critical. Please visit our FCCPS Mental Health Page for community resources, stress reduction/self-care activities, and other information related to this topic. Check on each other, reach out, and remember you are not alone.
Food/Nutrition Support
FCCPS continues to provide weekly meal support each Friday. Any family in need can order 7-days' worth of breakfasts and lunches for each child in their family. The boxes of food are distributed at Thomas Jefferson Elementary and George Mason High School. Please visit our FCCPS Nutritional/Support Webpage for information on how to sign up for this wonderful resource. Please reach out to Richard Kane (rkane@fccps.org) for more information or with questions.
Communication/Morning Announcements
The Morning Announcements are back, and I hope you have a chance to see them. We will keep these up for the remainder of the school year. Updates from me have shifted to once a week on Fridays. I, also, will continue to use Twitter to send messages out (including my Wednesday videos from 'Somewhere in FCCPS'), so please follow me @peternoonan.
---
15 de Mayo de 2020
Actualización del Viernes
Esto es más largo de lo habitual, así que tome una bebida fría, acomódese y lea ... :)
Estimadas Familias y Personal de FCCPS:
Ha sido otra semana interesante en FCCPS. Gracias a todos por su continuo apoyo a nuestras escuelas. Mencioné en mi mensaje semanal de los Miércoles por @peternoona Twitter de que nosotros, como comunidad, necesitamos estar cómodos con la ambigüedad. Como educador de por vida, una de las alegrías de trabajar en un sistema escolar es la previsibilidad del año, la semana y, en cierta medida, el día. Como padre de tres hijos en las escuelas, también aprecio la previsibilidad. Ahora estamos en un territorio donde hay poca previsibilidad y todo lo que podemos hacer es comenzar a planificar una variedad de escenarios. Continuamos reuniéndonos con nuestros socios en todo Virginia para recopilar la mejor y más precisa información disponible y tomar decisiones basadas en eso.
Como consecuencia de estar en una situación impredecible, también debemos incorporar flexibilidad. Estamos muy orgullosos de nuestros maestros y personal que pudieron "poner de pie" un programa de aprendizaje en línea que llenó el vacío durante la fase de crisis de la pandemia y se mantuvo durante la primera parte de la fase de transición. Hemos recibido respuestas abrumadoramente positivas a lo que hemos hecho y estamos eternamente agradecidos por eso. Y ahora, en un esfuerzo por crecer y ser flexibles, debemos reflexionar sobre lo que ha funcionado bien, lo que se puede mejorar y cómo avanzamos si volvemos al aprendizaje en línea en cualquier escenario futuro.
Por lo tanto, estamos participando en más estudios e investigaciones y conversaciones sobre cómo se ve la mejor práctica educativa en un entorno en línea. Estamos desarrollando planes para apoyar a nuestros maestros profesionalmente para que puedan crecer en su trabajo en línea, y desarrollando un conjunto de principios básicos para el aprendizaje en línea que compartiremos con nuestra comunidad en los próximos meses. Para informar nuestro trabajo, continuaremos colaborando con nuestra facultad docente y planeamos hacer una encuesta muy breve de estudiantes, padres y personal que nos proporcionará información en el futuro. Esté atento a esto en el futuro cercano.
Como dije al comienzo de esta crisis, no reunirse cara a cara no es el estado ideal. Sin embargo, si trabajamos duro para mejorar nuestra calidad de instrucción de manera consistente en todos los salones de clase y en línea, espero que podamos decirles a todos ustedes ... "mientras preferimos reunirnos en persona, incluso en línea podemos ofrecer un excelente programa de educación programa."Esa idea permitirá la mayor flexibilidad en el futuro, independientemente del escenario en el que nos involucremos en función de la ciencia y la seguridad de nuestros estudiantes, personal y familia durante la pandemia.
Actualizaciones
Escuela de verano cara a cara
Es con gran decepción que anunciamos que FCCPS no organizará un cara a cara la escuela de verano para nuestros estudiantes. Después de consultar con el equipo de expertos del Departamento de Salud del Condado de Fairfax (FCHD), hemos concluido que participar en una escuela de verano en persona no es lo mejor para nuestros estudiantes, nuestro personal o sus familias. Los riesgos para la salud siguen siendo demasiado grandes en función de una serie de factores. Esos factores incluyen las tasas de infección, la disponibilidad de recursos y el momento de los picos de infección proyectados.
Esta decisión no se toma a la ligera ya que conocemos las dificultades que este cierre extendido ha creado para las familias de nuestra comunidad. En el Distrito de Salud de Fairfax y de la Ciudad de Falls Church, seguimos viendo un aumento diario en el número de casos de COVID-19. Esto requiere la necesidad continua de estrategias intensivas de mitigación social en toda nuestra comunidad para mantener a todos a salvo. Los datos del tablero del Departamento de Salud del Condado de Fairfax (FCHD) (https://www.fairfaxcounty.gov/covid19/case-information) y los modelos de la Universidad de Virginia (https://covid19.biocomplexity.virginia.edu/dashboards) muestran no hemos esperado y no esperamos alcanzar nuestro "pico en la curva" hasta muchas semanas a partir de ahora, lo que desafortunadamente nos sitúa en pleno verano. FCHD compartió que las tasas de infección continúan aumentando y no se espera que disminuyan hasta después del verano.
Además, la orientación y los datos de FCHD muestran que con la relajación de las estrategias de mitigación social, veremos aumentos en las tasas de incidencia de la enfermedad. Como comunidad, debemos continuar tomando medidas para limitar la transmisión de enfermedades. Por lo tanto, la instrucción cara a cara simplemente no será posible para proteger a nuestros estudiantes, nuestros miembros del personal y sus familias. El VDOE también ha brindado orientación para que la instrucción en persona no se reanude hasta después del 25 de Julio. Simplemente no podemos arriesgarnos a aumentar la propagación de la enfermedad en nuestra comunidad de aprendizaje que viene con la instrucción de verano cara a cara. Como resultado, no tendremos nuestra programación tradicional de escuela de verano, incluido nuestro programa tradicional de verano de la Escuela Extendida presencial de verano (ESY) para estudiantes con discapacidades. Los servicios de ESY se ofrecerán virtualmente para nuestros estudiantes con discapacidades. La Academia de Verano de George Mason High School se llevará a cabo sin el componente en persona.
Sin embargo, ofreceremos una variedad de oportunidades de apoyo, enriquecimiento educativo y enfoques de aprendizaje alternativos para los estudiantes de toda la división durante el verano. A continuación se presentan algunas de las estrategias que apoyarán a nuestros estudiantes durante todo el verano en lugar de la instrucción tradicional de la escuela de verano. Sabemos que esta situación no es ideal. Nuestra principal preocupación ha sido y seguirá siendo la salud y el bienestar de nuestra comunidad de aprendizaje.
Escuela / Programa:
Descripción / Detalles:
Persona de contacto:
Estudiantes de Preescolar

Calendarios mensuales de actividades para Junio / Julio / Agosto con actividades de enriquecimiento de verano se compartirán con todos los padres.

Marie Baroody (mbaroody@fccps.org)
Recursos para estudiantes de la Escuela Primaria
Jeremy Ferrarajferrara@fccps.org
Amanda Davis

Recursos de la Escuela Intermedia

Rory Dippoldrdippold@fccps.org
Rob Carey

Estudiantes de la escuela Secundaria

Los estudiantes tendrán la oportunidad de seleccionar entre una variedad de cursos híbridos (Hy-C) para obtener nuevos créditos, recuperar créditos o continuar a través de la Academia de Verano de la Escuela Secundaria George Mason. Visite https://gm.fccps.org/o/gmhs/page/2020-summer-academy para obtener más información. (Sin embargo, no habrá un componente de aprendizaje en persona para este programa).

Matt Hills (mhills@fccps.org)
David Serensits (dserensits@fccps.org)
Servicios para Estudiantes con Discapacidades

Año Escolar Extendido (ESY) Educación especial y afines Los servicios se proporcionarán a través de sesiones en línea individualizadas según lo determine el equipo del Programa de Educación Individualizada (IEP) del estudiante.
El programa informático adaptativo IXL para estudiantes con discapacidades seguirá estando disponible para lectura y matemáticas.
Un equipo de apoyo de "educación especial de guardia" estará disponible durante todo el verano para ayudar a los estudiantes y padres.

Rebecca Sharp (rsharp@fccps.org)
Seamus O'Connor (oconnors@fccps.org)
Patrick Garland (garlandp@fccps.org)
Programación de ESOL para Estudiantes de Inglés

Se proporcionará una sesión de escuela de verano en línea en cada nivel para apoyar el desarrollo del idioma inglés para estudiantes de inglés actuales.

Jennifer Santiago(santiagoj@fccps.org)
Actividades y apoyos en línea proporcionados a las familias del campamento de verano hasta que la guardería pueda abrir

El campamento de Verano de Middle School no se ofrecerá en absoluto debido a la inscripción insuficiente.
Programas de campamento de verano de Primaria en el Mt. Daniel y Thomas Jefferson no se ofrecerán en Junio (semanas 0, 1 y 2). Esperaremos orientación del departamento de salud y del estado sobre la programación más adelante en el verano. Proporcionaremos a las familias la mayor cantidad de aviso posible.
Todos los viajes de campo y viajes de natación han sido cancelados durante el verano.
El personal de guardería proporcionará actividades diarias a las familias a través de Schoology mientras la guardería está cerrada. Estará disponible para todas las familias registradas, incluidas las familias de la escuela intermedia.
Continuamos evaluando opciones para apoyar la seguridad de los estudiantes y el personal una vez que se reanude el campamento cara a cara.

Katie Clinton(kclinton@fccps.org)
Apoyo alimentario
En respuesta al cierre prolongado debido a La crisis pública de COVID-19, FCCPS se enorgullece de brindar apoyo alimentario continuo a nuestros estudiantes y sus familias. Cada semana, CUALQUIER familia necesitada, no solo aquellos que participan en el Programa de comidas gratis o de precio reducido, puede pedir (7) Desayunos y (7) almuerzos para cada niño de su familia. El programa comenzó el 3 de abril y durará todo el verano.

Las comidas serán empacadas y listas para recoger en su lugar preferido, ya sea George Mason High School o Thomas Jefferson Elementary School. Las familias deberán ordenar sus comidas cada miércoles a las 2:00 p.m., y se pueden recoger todos los viernes por la mañana entre las 9 a.m. y las 12 del mediodía, observando un distanciamiento social / físico seguro.
Las instrucciones para realizar pedidos, incluido un video, están disponibles aquí.

¡Por favor recuerde! Si los cierres de COVID-19 han resultado en un cambio en los ingresos de su familia, podría ser elegible para recibir asistencia a través del programa National School Lunch.

FCCPS acepta solicitudes para el Programa gratuito de comidas reducidas en todo momento. Visite https://www.fccps.org/o/FCCPS/page/free-reduced-meals--14 para descargar la aplicación para el programa FRM.
Una vez que la solicitud esté completa, envíela por correo electrónico a foodservices@fccps.org. Se le notificará sobre su elegibilidad para este programa lo antes posible.

Si necesita ayuda para completar la solicitud, comuníquese con el trabajador social de su escuela para obtener ayuda. Recuerde, estamos aquí para ayudarlo. Además, hay muchos otros recursos disponibles de nuestros socios de la ciudad, el condado y el estado. Esos recursos incluyen:
Richard Kane(rkane@fccps.org)
Además, el Departamento de Parques y Recreación de la la Ciudad de Falls Church y La Biblioteca Pública de Mary Riley Styles está ofreciendo una amplia variedad de recursos en línea para familias.
Actualización de Equidad
El Equipo de Equidad de Nivel de División (DLT) se reunió el Martes por la tarde para analizar profundamente el impacto de COVID 19 en los estudiantes y el personal. Esta inmersión profunda incluyó compartir resultados positivos de aprendizaje, así como áreas donde los estudiantes están experimentando desafíos de aprendizaje. Durante nuestro tiempo de aprendizaje a distancia en línea, muchos maestros informan que algunos estudiantes que de otra manera habían sido tímidos, lentos en participar o menos involucrados en el aula ahora están prosperando. Hemos escuchado que muchos de nuestros estudiantes están prosperando en el entorno en línea y muestran mejoras marcadas en sus habilidades para hablar y escuchar. Con eso, reconocemos que largos períodos de enseñanza y aprendizaje en línea no son ideales y necesitamos continuar monitoreando el progreso de nuestros estudiantes, especialmente nuestros estudiantes que a menudo son los más afectados negativamente.
Los miembros del equipo también discutieron las preocupaciones e ideas de equidad que deben mantenerse a la vanguardia de nuestro pensamiento a medida que los líderes de FCCPS finalizan el plan de fin de año y el plan de apertura de escuelas de 20 '. La agenda y las notas de la reunión están aquí y publicadas en la página web de equidad.
A medida que continuamos afinando nuestra lente de equidad, los miembros de DLT han acordado continuar tocando la base quincenalmente para participar en discusiones de equidad y compartir recursos y artículos profesionales para garantizar que todas las decisiones a nivel de división mantengan un enfoque de equidad.
GMHS Time Capsule
He estado trabajando con nuestros representantes del propietario, Brailsford & Dunleavy, para producir un 'Llamado a la Acción' para nuestra nueva GMHS Time Capsule. Les pedimos a todos que sugieran que se incluyan elementos para que, un día, las generaciones futuras puedan disfrutar mirando hacia atrás. Sin duda habrá una máscara facial. Así que piense en lo que cree que sería genial incluir y envíe su idea a newgmhs@fccps.org .
Recordatorios
Jessie Thackrey, Mount Daniel, Thomas Jefferson
Los maestros están reuniendo artículos de los estudiantes y colocándolos en una bolsa de papel con el nombre del estudiante. Estos artículos permanecerán en la escuela y se distribuirán cuando el estudiante regrese en el otoño. Del mismo modo, el personal de la guardería está reuniendo artículos de los casilleros de la guardería y colocándolos en bolsas para que los recoja cuando la escuela vuelva a abrir. Los ayudantes de salud escolar están revisando los medicamentos de los estudiantes. Estos permanecerán en la escuela o se trasladarán a la nueva escuela del estudiante si están en transición. Si los padres necesitan que se les devuelva el medicamento, comuníquese con los administradores de su escuela.
Los libros, tecnología y libros de biblioteca serán devueltos a la escuela en el otoño. Estableceremos una fecha a principios de agosto para que la tecnología sea devuelta para prepararla para el nuevo año si podemos comenzar el nuevo año escolar en los edificios escolares.
Mary Ellen Henderson, George Mason - Grados 9-11
Por favor, marcan el fin de semana del 6 y 7 de Junio en su calendario como los días de drop off de los estudiantes. Habrá un horario de entrega anunciado en las próximas semanas para apoyar el distanciamiento social. Las mesas se colocarán afuera, en Kiss-and-Ride en Henderson, y el bucle de la Ruta 7 en George Mason. El proceso sin contacto permitirá que las familias conduzcan en automóviles y coloquen artículos en contenedores móviles de color naranja y se vayan. Nuestro personal recogerá los contenedores, limpiará los artículos antes de llevarlos al edificio. La limpieza de los casilleros en Henderson ocurrirá en una fecha posterior en el verano.
Los productos que se devuelvan el fin de semana del 6 y 7 de Junioincluiyen:
Libros de texto
Libros de la biblioteca
Instrumentos de banda
Uniformes atléticos (lávelos antes de devolverlos)
Los estudiantes que compraron un anuario de Henderson o Mason también los distribuirán durante este tiempo.
Todos los estudiantes (excepto los adultos mayores, ver más abajo) conservarán sus computadoras portátiles durante el verano. Se actualizarán de forma remota.
NUEVOS ENTRANTES: Planificaremos un intercambio de computadoras portátiles a principios de agosto, donde intercambiarán su computadora portátil Henderson por unaMason computadora portátil.
Las tarifas pendientes se facturarán y cobrarán electrónicamente.
Al igual que con las escuelas primarias, el asistente de salud escolar revisará los medicamentos de los estudiantes. Estos permanecerán en la escuela o se trasladarán a la nueva escuela del estudiante si están en transición. Si los padres necesitan que se les devuelva el medicamento, comuníquense con los administradores de su escuela.
George Mason Seniors
Seniors recibieron sus togas y birretes mediante un proceso de conducción sin contacto. También recibieron información sobre una clase de 2020 graduación de vídeo ser producidos que se estrenará el 10 de Junio a las 7 pm. ¡Así que adelante, haga planes para fiestas familiares y llévese su restaurante local favorito de la de la Ciudad de Falls Church! Consulte a continuación para obtener más detalles ...
El sábado 11 de Junio será el Día de Entrega de los Seniors! Todos los artículos mencionados anteriormente, incluyendo su MacBook y cargador, serán devueltos a cambio de su diploma. Cualquier tarifa pendiente se facturará y cobrará electrónicamente.
Detalles de Graduación
Desde principios de Abril, el Sr. Hills, la Sra. Reyes y el Sr. Bates han estado dirigiendo reuniones de planificación de graduación con el Consejo Asesor Estudiantil de Mason. Nos complace compartir que nuestros graduados participarán en una producción profesional de videos de graduación creada con la experiencia de Molly Hermann y su equipo en The Biscuit Factory , una empresa local. El vídeo será transmitido a las 7:00 pm el 10 de Junioen lugar de una graduación en persona. Los estudiantes de último año regresarán a Mason High School el 11 de Junio para recoger sus diplomas, estolas, medallones, cuerdas, etc. y entregar sus computadoras portátiles. Continuaremos reuniéndonos con los estudiantes para discutir y planear una ceremonia cara a cara a fines del verano u otoño cuando sea seguro hacerlo.
Nuestra producción de graduación es un esfuerzo colectivo de toda la clase senior, donde los videos individuales de los estudiantes se combinarán para crear una producción de transmisión continua. El video incluirá discursos de estudiantes y personal junto con la acción de los estudiantes moviendo sus borlas y arrojando sus gorras. Nos gustaría enviar un agradecimiento especial a nuestros líderes de clase sénior que se han dedicado a planificar un evento de graduación para que disfrute toda la comunidad de Falls Church City, donde podamos honrar y reconocer los increíbles logros de la clase de George Mason High School. 2020. ¡Continúe mostrando su aprecio por nuestros graduados colocando carteles de felicitación en sus patios y ventanas!
Apoyos de Salud Mental
Este ha sido un momento de gran ansiedad y estrés para todos nosotros. Necesitamos tener el mismo cuidado con nuestra salud mental que con nuestra salud física. Centrarse en las necesidades emocionales es esencial. Está bien dar un paso atrás y tomar un descanso. Estamos en medio de un evento traumático. Cuidarse a sí mismo y a sus alumnos es fundamental. Visite nuestra página de salud mental de FCCPS para obtener recursos de la comunidad, actividades de reducción de estrés / autocuidado y otra información relacionada con este tema. Revise el uno al otro, comuníquese y recuerde que no está solo.
Apoyo de Alimentos / Nutrición
FCCPS continúa brindando apoyo semanal de comidas todos los viernes. Cualquier familia necesitada puede pedir desayunos y almuerzos por 7 días para cada niño de su familia. Las cajas de comida se distribuyen en Thomas Jefferson Elementary y George Mason High School. Visite nuestra página web de soporte / nutrición de FCCPS para obtener información sobre cómo inscribirse en este maravilloso recurso.con Richard Kane (Comuníqueserkane@fccps.org) para obtener más información o hacer preguntas.
Comunicación / Anuncios Mañaneros
Los anuncios mañaneros han regresado, y espero que tengan la oportunidad de verlos. Los mantendremos durante el resto del año escolar. Las actualizaciones de mí han cambiado a una vez por semana los viernes. Yo también continuaré usando Twitter para enviar mensajes (incluidos mis videos de los miércoles de 'Somewhere in FCCPS'), así que síganme en @peternoonan.
---